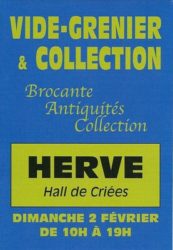 FR: Ne ratez pas ce dimanche 02 février 2020 le vide grenier et collections qui se déroule à Herve au Hall de Criées de 10h à 19h. Plus d'infos: 0475807576. « The Toy Market » sera présent et vous y offrira gracieusement le dernier exemplaire de notre publication à l'occasion de son 20ème anniversaire… (jusqu'à épuisement de stock)
NL: Mis deze zondag 02 februari 2020 de « brocante- en verzamelbeurs » niet die in Herve (Hall de Criées) plaatsvindt vanaf 10 tot 19u. Meer info: 0475807576. « The Toy Market » zal aanwezig zijn en zal u ook een gratis exemplaar van ons blad bezorgen om onze 20ste verjaardaag te vieren (tot uitputting van voorraad!).
GB: Don't miss this antiques and collectors market who will take place at Herve on Sunday 02 February 2020 in « Hall de Criées » from 10am till 7pm. More info: +32475807576. « The Toy Market » will attend and  will offer you the current copy of our publication to celebrate his 20th birthday… (till we're out of stock)!
Place/Plaats: Hall de Criées – rue de Charneux, 94 – 4650 Herve – Belgium
Laisser un commentaire