May we remind you the next "Bertoia Auctions" on 09th and 10th may 2014. As usual, they will offer beautifull collectible toys, produced between 1780 and 1960. Among them, you'll find treins, mechanical toys, lead soldiers, advertising objects from major manufacturers. More information:  www.bertoiaauctions.com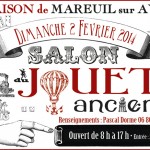 Translate original post with Google Translate N'oubliez pas la date du Salon du Jouet Ancien de Mareuil sur Ay (Champagne-France): le dimanche 02 février 2014 de 8 à 17h.
Bertoia verkoop op 12 Mei 2012 Thema: nautische speelgoed & Boot collectie Plaats: 2141 DeMarco Dr. Vineland, NJ 08360 – USA Contact : Telefoon: 856-692-1881 Mail: toys@Bertoiaauctions.com
Translate original post with Google Translate Dans l'onglet The Toy Market, sous l'appellation "Agenda" vous pourrez dès à présent consulter une liste de dates des foires et évènement les plus importants d'Europe!
Translate original post with Google Translate Notre nouveau "The Toy Market" est paru! (numéro 61) Il  couvre l'agenda européen des bourses et ventes publiques de jouets anciens, voitures miniatures, poupées, soldats et trains miniatures pour les périodes Novembre-Décembre 2011/Janvier-Février 2012 Un abonnement vous donne droit à divers avantages. Par ex: Vous pourrez venir  gratuitement découvrir […]
Geachte bezoekers Wij zouden u willen aanduiden dat een fout in onze laatste « The Toy Market » nummer 61 geslopen is. De 8ste mislukt Toyssimi in Rome – Italië zal op 20 november 2011 aan Ergife Polare Hotel georganiseerd worden, en niet op 27 november zoals aangekondigd in onze agenda.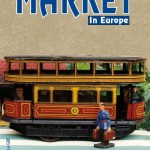 De nieuwe "The Toy Market" (nummer 60) is verschenen !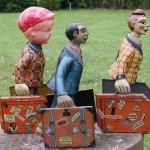 Fijne Vakantie !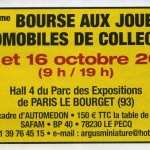 Translate original post with Google Translate 3ème Bourse aux Jouets Automobiles de Collection Parc des Expositions de Paris Le bourget (Hall 4) 15 et 16 octobre 2011 – (9h-19h) La Bourse aux Jouets se tiendra dans le cadre du salon AUTOMEDON. Info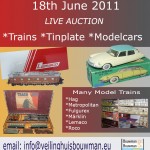 18 Juni 2011 – Speelgoed Veiling
* Trains * Modelauto's * Poppen