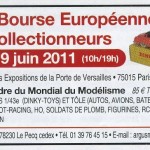 31st International model making show
Paris – Porte de Versailles exhibition center (hall 3)
Figurine, Miniature and Model making, Reduced-sized model, Aeroplanes, Cars, Boats, Trains, Models, Dolls houses, Figurines, Antique toys, Board games, Materials, Tools and a whole range of miniatures for both indoor and outdoor use.
"Galerie de Chartres" – France
1. Great sale of toys (for boys)
Saturday 9th april 2011
2. Great sale of dolls and doll's house
Saturday 21st may 2011
CINEY EXPO / Belgium
International fair of model making and old toys
Sunday 17 April 2011
9.30 a.m. – 14.oo p.m.